Microsoft Project 2016 – Working Concepts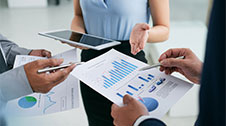 If it's time to get more value out of MS Project, this is the course for you.  Move beyond the basics of MS Project to be exposed to critical MS Project features and tools which can make project planning, reporting and tracking a breeze.
Microsoft Project 2016 – Working Concepts is designed for existing users of Microsoft Project who wish to extend their skills and knowledge beyond the creation of simple projects.
At the completion of this course you should be able to:
use various techniques for levelling over allocation of resources
assign material resources in a project
assign and track costs within a project
apply constraints and deadlines to tasks in a project
track the progress of a project
work more productively with project views
work with tables in Project
work with some of the features that allow you to control your data
format projects to make them more appealing and relevant
print data from Gantt Charts in a variety of ways and presentations
Non-Accredited Training suitable for professional development.
Delivery Mode: Face-to-Face, TechKnowledgey Learning Hub Computer Lab
Duration: 1 day
Apply Now
Course Dates
Please select your course date.