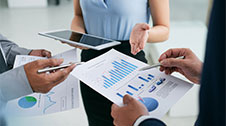 Microsoft Excel 2016 – Working Concepts
If it's time to master MS Excel, this is the course for you.  You will be exposed to critical MS Excel features and tools which can make your workbooks and worksheets work for you.
The skills and knowledge acquired in Microsoft Excel 2016 – Working Concepts enable users to expand their knowledge and learn how to create more productive workbooks. It covers formulas and function techniques, advanced formatting and charting features and data manipulation tools like goal seeking.
At the completion of this course you should be able to:
use the fill operations available to fill a data series
use a range of techniques to work with worksheets
apply a variety of page setup techniques
apply borders to cells and ranges in a worksheet
use common worksheet functions
create more complex formulas and functions
create and use defined names in a workbook
apply a range of number formatting techniques to worksheet cells
apply conditional formatting to ranges in a worksheet
use goal seeking to determine the values required to reach a desired result
understand and use Excel's Quick Analysis tools
create and work with tables
use a range of elements and features to enhance charts
select and change the format of objects in a chart
Non-Accredited Training suitable for professional development.
Delivery Mode: Face-to-Face, TechKnowledgey Learning Hub Computer Lab
Duration: 1 day
Enquire Now
Course Enquiry
You can send us a message with the form below to get more information on MS Excel or details on alternate courses if there are currently no dates available. You may also make a Corporate Enquiry.