Capture your audience and make your message heard - presentation skills made easy for the workplace and most business contexts!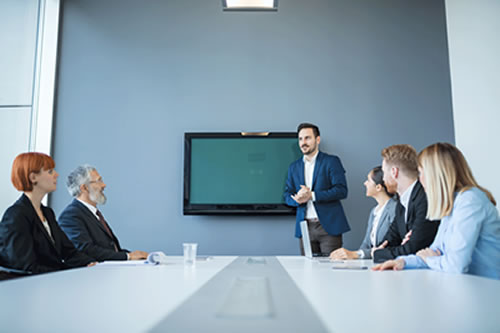 Giving an effective presentation and the ability to address groups with confidence are important attributes business people today need to possess.  This course encompasses key aspects that will assist you in delivering a top-quality presentation.  This includes knowing your audience, setting the environment, developing the content, utilising various tools and strengthening your verbal and nonverbal language.  You will be guided in the processes of planning, structuring, creating, controlling, fine-tuning and delivering, which will help you develop and master the skill of presentation.
Upon successful completion of this course, participants will be able to:
Identify and demonstrate the qualities of an effective presenter;
Analyse and relate to your target audience;
Tailor your presentations to the requirements of the intended target audience;
Understand the impact which environment has on the success of your presentations;
Better control the presentation environment;
Scope your topic accurately and efficiently;
Structure your presentation logically and succinctly; and
Incorporate presentation tools, which enhance your message.
Non-Accredited Training suitable for professional development.
Delivery Mode: Face-to-Face
Duration: 1 day
Enquire Now
Course Enquiry
You can send us a message with the form below to get more information on Presenting for Results or details on alternate courses if there are currently no dates available. You may also make a Corporate Enquiry.