Learn to manage risks and maximize opportunities by tackling uncertainty head on.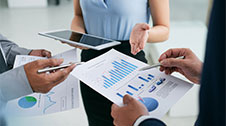 As today's operational environment becomes ever more complex, integrated and fast-paced, the need to manage uncertainty and its impacts on objectives continues to increase.  Organisations are also increasingly aware of their responsibility to manage uncertainty, whether this is characterised as maintaining safety, legal compliance, or Corporate Social Responsibility.  Risk Management is the established conceptual framework and methodology which organisations rely upon to meet this responsibility.
This course introduces and builds skills with all of the major phases of the Risk Management methodology.  We begin with risk identification, move on to risk analysis in terms of probability and impact, and then identify relevant risk responses.  We also work with planning tools to capture and prioritise risk responses, and to devise the Risk Management strategy and plan.
Upon successful completion of this course, you will be able to:
Apply risk identification strategies and processes;
Discuss the distinctions between 'positive' and 'negative' risk;
Differentiate between the two risk analysis dimensions of probability and impact;
Define classic and specific risk-response approaches;
Suggest appropriate responses to specific risks;
Develop a Risk Management strategy and plan (with a special focus on Project Management applications); and
Appreciate the human, political and cultural dimensions of Risk Management.
Non-Accredited Training suitable for professional development.
Delivery Mode: Face-to-Face
Duration: 1 day
Enquire Now
Course Enquiry
You can send us a message with the form below to get more information on Risk Management Essentials or details on alternate courses if there are currently no dates available. You may also make a Corporate Enquiry.